Message from Chief Advisor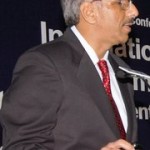 remorphing is truly a global business consulting and knowledge services powerhouse. It is customers-driven as the customers set its agenda and its level of excellence. And remorphing steadily matches and exceeds the expectations of its customers in all initiatives and engagements. It is guided by its core values which keep it (hundreds of ivy-league professors, alumni, and global industry professionals) focused on helping the customers apply edge-of-the-wave insights and trends to achieve their strategic goals.
It is a pleasure seeing how such a complex project of coordinating and cohesively binding its syndicate is led with ease by its delivery and conception teams. The most advanced of mathematical, statistical and neural networks thoughts have been applied in its design towards efficient networking. This networking, surprisingly, is human intensive and not technology reliant; probably by choice. Naturally, access to the frontline talent across various genre, brings forth remorphing's solutions as carefully tailored, combining industry expertise, intellectual property and deep research in ways that achieve real business results. Yet business and knowledge rarely stand still. remorphing teams, and talent pools, continually explore, create and adopt new innovations to keep the offered solutions ahead of the curve.
Its industry leadership is a result of its human base. This is what makes it one of the outstanding companies in the consulting industry, and a company to emulate. Each of its talented workforce brings diverse backgrounds and specialized disciplines to deliver the core thing that the customers want most – results.
Welcome to remorphing. We look forward to working with you.
The special ace program themes I have liked immensely are:
Strategy, Leadership and Innovation
Simulation Training
Competitiveness of Firms and Industries
Investment Mentoring in India
Corporate Advanced Learning Academy
best wishes,
Sandeep Mann, Chief Advisor
Profile | Sandeep Mann: A legal practitioner and transformation/ intrapreneurship enabler, Sandeep [BTech, MBA, LLB, PMP] is a Conference Speaker, prolific writer, corporate analyst-mentor, and public causes enthusiast. The Six Levels of Strategy-Leadership-Innovation Mindset [6-SLIM] is his acclaimed contribution to business management world – this is a hugely followed organizational transformational and succession planning program. His key domain is Competitiveness of firms, industries and the BRICS city/state economies. He sits on Advisory Board of Institute for Competitiveness, India [IFC] – IFC is an affiliate of ISC, Harvard Business School, led by Prof Michael Porter of Harvard University. He has witnessed global strategy of many Fortune 500 firms from close quarters, facilitating Mergers and Acquisitions, besides anchoring a multitude of Micro-Small-Medium Enterprises over last two decades. He facilitates Foreign Direct Investment flow into specific sectors and specific locations across various Economic Zones. He gives COO and Projects advisory to many firms. He anchors, inspires and drives a syndication of the 200+ of the best of global industry practitioners and ivy-league academia. He supports initiatives furthering board diversity, meaningful diversity, sustainable private sector development and life-long learning. Has published numerous reports on competitiveness of various industries, cities and states of India – has profiled management case studies on many leading companies – his grasp of advanced econometric methodologies, bundled with tracking of global equity markets is a forte. The analyses are rigorous yet lucid, and suffice as exceptional ammunition for making strategic calls based on future projected trends. He advocates industry-academia collaboration, having been guest faculty for full courses at MDI, Gurgaon and other leading B-Schools. He can be reached at thinkvast@gmail.com / sandeep@remorphing.com.
remorphing is scouting for a dynamic CEO.
---